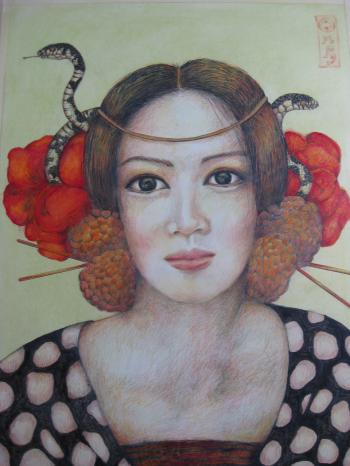 W H A R F W O R K S
Artworks
Marianne Plomp
Alphen aan den Rijn-NL
Contact: info@wharfworks.nl
Instagram: Wharfworks
Paintings, drawings, objects, sculptures, installation and performance.

My work contains and is influenced by icons, unique mythical figures from ancient cultures, video games, science-fiction and fantasy films.
A theme that fascinates me and reflects in my work is the relationship of human nature with old spiritual sources in contrast with the modern fashionable world.
Most of my work is project based, dealing with social and environmental topics. I collaborate with other artists and people of all kinds of cultural backgrounds.
I also do commissions and my individual work is for sale. Contact me to ask for inquiries and art prices.
Education
1970: Schoevers Business school, graduated, Den Haag;
1975-1988: Professional lessons Model and Portrait;
1985-1988: Assistant at Art and Antique Gallery "Rhijnkade 11" van Helga Hofman a.o. Alphen aan den Rijn;
1988-1990: Royal Academy of the Arts Den Haag, graduated propaedeuse.
Projects

1989-1993: Uno Income for all people, a world wide basic income study in co-operation with artist Pieter Kooistra, inventor of the Kunstuitleen (lend out art), for his foundation based in Varik and Amsterdam studios.
1992-1995: HUNI, (Stichting Hulp Noord Ierland), foundation for Aid Northern Ireland. Art and theatre projects with Northern Irish youths, Hazerswoude/Koudekerk.
1995-1999: The Wall, a poetic story about life in four parts, inspired by the Belfast youths. Resulted in 21 paintings on wood and 7 textiles with drawings.
2000: Exhibition of the Wall paintings in the Laurens Church, Rotterdam.
2001: After the troubles: The Arc, a triptych from The Wall story in cross form, a gift to the Northern Irish people, intended for the Waterfront Hall in Belfast.
"Wharfworks"started there and then.
1995: Hemp project. Member of Fashion Platform The Hague. Costumes made of hemp, painted and sculptured. Hemp, used as underground for paintings, but also an environmental friendly fabric.
Exhibition with hemp costumes in Haags Gemeentemuseum and Atrium as a member of the Platform.
2005: CPA, Cultural Platform Alphen aan den Rijn. Transformation of an old industrial building into studios for artists, bands, rooms for exhibitions and theatre, indoor skatepark, together with a number of students, punks, young artists, music makers.
2007: Galerie Beeldverhalen Alphen aan den Rijn. Under management of Wharfworks and Art2B2.
2008-2009: Exhibitions: Tim de Groot: comics and animation. Jan-Willem Campmans: Wii painting. Lobke van Aar: illustration and animation. Christine Thau: presentation childrens book Knikkepeen. The Paperclub: Midwintermasks.
2010: Open Ateliers: Icons, costumes and storybags. Guests: Anke van der Kwaak with Japanese ceramics and Michiel Kauw a Tjoe, paintings.
2012: Added to the Public Catalogue Foundation of the United Kingdom with The Arc. (1999). A triptich for the people of Belfast. Waterfronthall Belfast.
www.art.co.uk
2013-2014: De Doorloop: Dreespassage 7, Alphen aan den Rijn: Wharfworks/Art2B2. Project organised by Alphen aan den Rijn and a number of artists to work and expose for a while in shops in the centre of Alphen. Shops ment to be demolished for new architecture.
"The Art of Construction". Architectural installations, objects and sketches.
2014: WHART Design, a coöperation between WHarfworks and ART2B2. Objects and architectural maquettes together with Ton Peterse.
2015: The Democratic Economic Alternative. Study and plan for a better world. Based on a basic income for all people. Against poverty, for a better environment and good for the wordwide economy. With Pieter Kooistra´s UNO plan in mind I found new ways for nowadays challanges. I submitted my case to the Nationale Wetenschapsagenda in 2015 (www.nwo.nl)
2015: Rap&Graph, a new city artspace in Castellum Theatre Alphen aan den Rijn
Gallery, Rap Lab and Rap&Graph Play. A hotbed for creativity, a spot where young people can work out their ideas. Streetart expo's, poetry, performance.
Poetry classes De Schrijftafel from writer Berdie Bartels.
Design of the artist rooms Castellum theatre with Rap&Graphs streetartists and our Whart design. Installation of an exposition in Rabofoyer Castellum theatre with Rap&Graph artists.
2017: The White Wall, an art installation based on the Wall paintings and Wall text with Braintales performance. Music, dance, spoken word.
A performance and exposition in Castellum theatre Alphen aan den Rijn on the 5th of May Liberation Day in the Netherlands.
At the background a large theatre curtain with drawings and text from performer and artist Jeroen van Merwijk.
2018: Cultural work with youths in Alphen aan den Rijn with at the same time a continuation of an in 2009 started study to carry out an eco-campus near Greenport Boskoop (Greeniconvalley). These two activities need a playground. Places in the city accessible for youths to experience culture, sports and technic in an affordable and low-threshold way.
2018: Member VEBOA: Vereniging van Bouw gerelateerde Organisaties in Alphen aan den Rijn with ART2B2 VOF.
2018: First year Instagram account Wharfworks.
2018: 17+18 November Landelijke Open Atelierdagen (www.landelijkatelierweekend.nl) with Wharfworks. Plus member Nederlandse Kunstkring (www.nederlandsekunstkring.nl)
2019: Member Vereniging Rembrandt.
All material copyright Wharfworks Marianne Plomp all rights reserved.
KvK 54554756
Website: Robert van Kints, e-mail: rvankints@gmail.com
Foto: Sarah Duif, e-mail: info@sarahdphotography.com